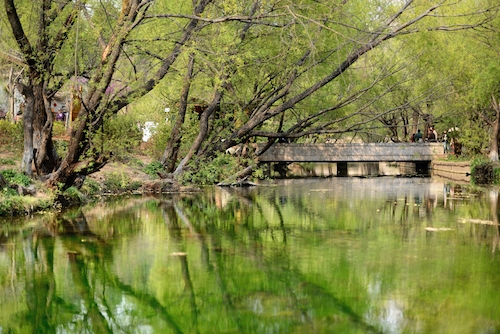 A sweet-smelling place with ink aroma has been a sacred one that people read and seek knowledge since ancient times. Centuries of literary deposit and elegant demeanor have been accumulated here. In the first year of Yongzheng reign of the Qing Dynasty (A.D. 1732), Cong Shun and the townsmen founded a "Yixue School" here, which marked the beginning of local government sponsored education; in the 11th year during the reign of Emperor Qianlong, their descendants advocated and established a "Wenchang School" here too, making cultural education an overwhelming trend. Moreover, they successively established three old-style private schools, thus Shuhe gradually grew into a well-known birthplace of talents.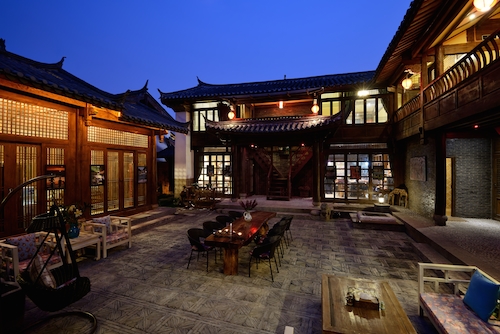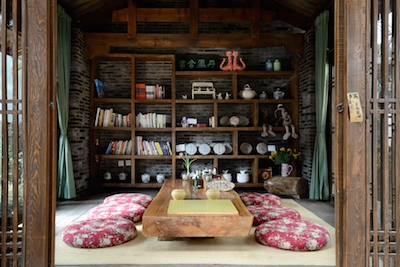 Blossom Hill Inn integrates the unique "private school culture" of Shuhe into calligraphy theme. In the study, the long narrow desks on the ground and comfortable cattail hassocks make reading an enjoyment of soul. In the yards, the warm sunshine and the leisurely furnished benches make talk a rewarding journey of spirits. Settling down here, you can dip into ink with your anima and give a colorful world with your imagination to express your emotions.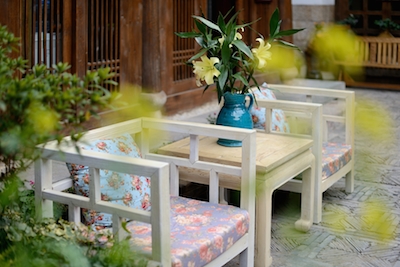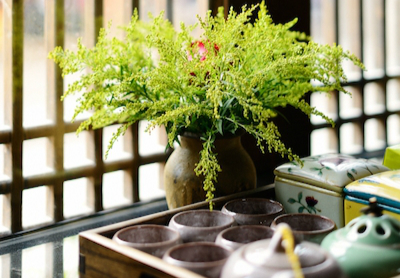 The ancient Tea-horse Road winds into the forgotten ages, Leaving behind peaceful serenity; Water of the Nine Tripod Dragon Pond flows leisurely and slowly, Washing the dust away; In Shuhe, You will find the tender and grace ego in yourself You will find the calm and sober ego in yourself You will find the great surprise in yourself You will be endowed with the most leisurely and richest good time in life.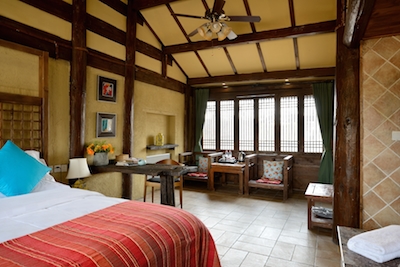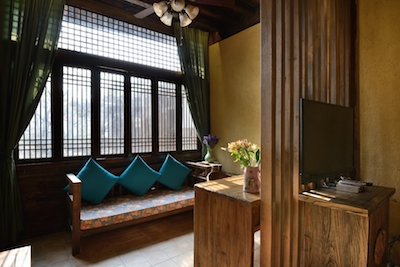 Blossom Hill • Ink Aroma is situated in the central place of the most inspiring Shuhe Ancient Town in Lijiang, it's adjacent to Shuhe primary school, only about ten steps' distance from Square Street of Shuhe. It has been always reputed as "A Holy Land with Phoenix Carrying Calligraphy". Ink Aroma Yard draws the auspiciousness of top-ranking blessing calligraphy and its reputation as talent birthplace; it is the authentic "literary family" among the numerous yards in Blossom Hill Hotels and Resorts.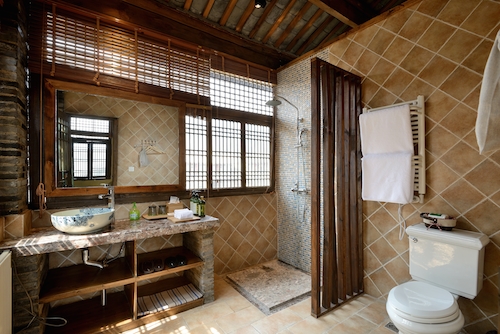 Comfortable Space Ink Aroma Yard consists of the front and back yards, both spacious square-shaped. The front yard is tranquil and tasteful, and the back yard is full of luxuriant and well-spaced flowers and trees. The design of antique looking wing-rooms is kept in every guest room. And boutique characteristic rooms, garden view rooms and high-quality suites are available. Every guest can have an independent room with exclusive sceneries. Their privacy is protected adequately. The guest rooms are equipped with heating facilities, Satellite Television, characteristic tea, top grade bedding, bathroom accessories with famous brands and electric heating towel racks etc. Besides, public space such as study, small meeting room, self-service kitchen and washhouse is available in the yard, thus giving guests convenient and comfortable feelings.